Meet the Oral Care Experts at Bonnie Doon Denture Clinic

Craig Marusiak, DD
Craig received his Denturist Diploma from NAIT and has had the pleasure of building his skills as a clinician in the neighborhood he calls home. He strives to build genuine and long-lasting relationships with his patients. He feels privileged to be involved in the oral health of his community. Craig prides himself in providing quality denture care to all of his patients, from implant supported overdentures with full cosmetic rehabilitation to routine relines and repairs.
Craig is originally from Edmonton and has lived here all his life. Outside of the office he enjoys spending time with close friends, backcountry hiking, tending his vegetable garden, and working on home renovations. He has a passion for travel, culture, and the pursuit of the perfect poutine.

Tasha Keown, DD
Tasha is a NAIT graduate having completed the Denturist Technology program in 2005. She finished her internship with Bonnie Doon Denture Clinic and became a fully licensed Denturist in 2007. Tasha was hired on as a full-time practitioner and has built lasting relationships with her clients over the last 16 years. She takes great value in the need for comfort and quality of our products and services, and is always striving towards meeting the expectations of her patients.
Sarah Weiss, RDA, DD
Sarah grew up with her parents in the dental field and was inspired to pursue it as her own career. In 2016 Sarah graduated from the Dental Assisting program at NAIT and then furthered her studies to become a Denture Specialist, also at NAIT, and graduated again in 2020. She looks forward to meeting you and helping you achieve your best smile yet!
Phung Phan
Phung has been working as a Technician at Bonnie Doon Denture Clinic since 2006. Prior to this, he spent 21 years developing his skills in both Edmonton and Brandon, Manitoba.
He came to Canada in 1978 from Vietnam. Phung is married with one son. His wife works at an Edmonton Catholic School and his son attends the University of Alberta for Engineering. In the summer, they enjoy travelling, fishing, and camping.
Jessica Seymour
Jessica has been the Office Administrator for Bonnie Doon Denture Clinic since 2016. In addition to Office Admin, Jess is a proud mother of 2 children and many fur babies. Jessica has a background in Accounting, Stage Management, and Event Planning through theatre and is currently an aspiring artist.
Frank the Bulldog and Chester the Rhino
Frank and Chester are the unofficial 'security staff' for Bonnie Doon Denture Clinic. They welcome patients with their quiet, steady gaze, and are responsible for making sure our patients and staff feel comfortable. Feel free to rest your weary feet on either of them, but don't expect them to fetch you a glass of water!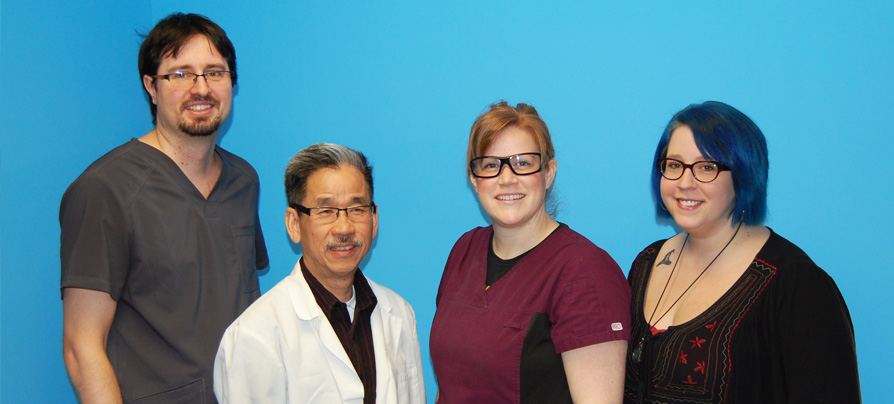 Professional Affiliations
Our Denturists are members of the following associations: