Meet the Oral Care Experts at Bonnie Doon Denture Clinic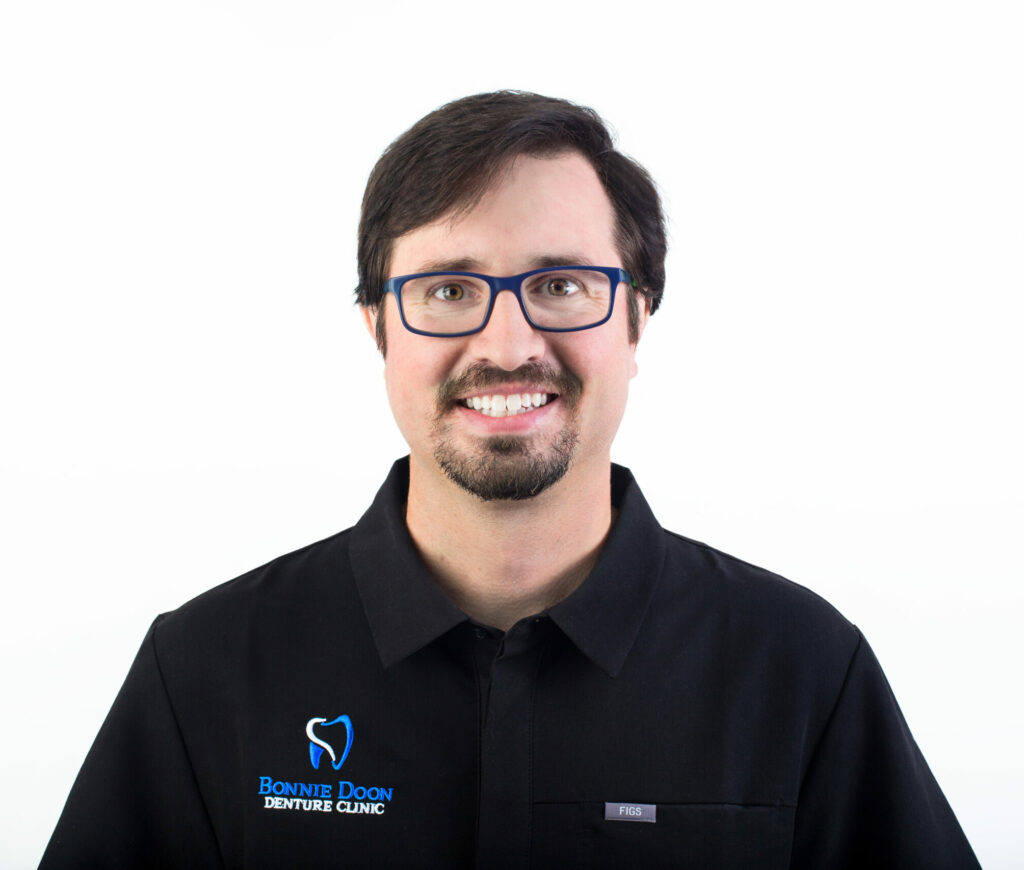 Craig Marusiak, Denturist

Introducing Craig, the seasoned clinic owner with a heart full of passion and over 15 years of unwavering dedication. Beyond the clinic's doors, Craig's life is a thrilling adventure. He finds solace in the roar of motorcycle racing, conquering slopes on skis, and igniting his taste buds with fiery culinary escapades. Golfing offers him a peaceful retreat from the fast-paced world of healthcare.
Craig's commitment to excellence is his trademark. He's the kind of leader who rolls up his sleeves and dives headfirst into any task. Whether it's the smallest detail or the grandest project, he approaches it with the same diligence, always aiming for the highest standard.
What truly sets Craig apart is his down-to-earth nature. Despite his extensive experience and remarkable achievements, he remains approachable and humble. He's not just one of the best in the business; he's the person you want leading the way, ensuring every aspect of your healthcare experience is top-notch.
With Craig at the helm, you're not just in capable hands; you're in the hands of someone who goes above and beyond, someone who transforms healthcare into an extraordinary journey of care and compassion.

Jonathan Shapka, Denturist
Meet Jon, our charismatic denturist known for his flair in crafting natural-looking, comfortable smiles. Beyond the dental chair, Jon's zest for life comes alive. He's an angler, hunter, and golfer, relishing moments by the water, in the wild, and on the green. He loves to share these moments with his fiancée and their black lab, Belle. Jon's linguistic talents extend to fluency in French, adding an extra layer of charm to his vibrant personality. In the clinic, his artistry shines as he meticulously designs dentures that fit seamlessly, providing both function and aesthetics. Jon's dedication to excellence extends from his professional pursuits to his personal endeavors, making him a master of both smiles and life's adventures. With Jon, you're not just getting a denturist; you're experiencing a commitment to natural beauty and confidence that's as genuine as the smiles he creates.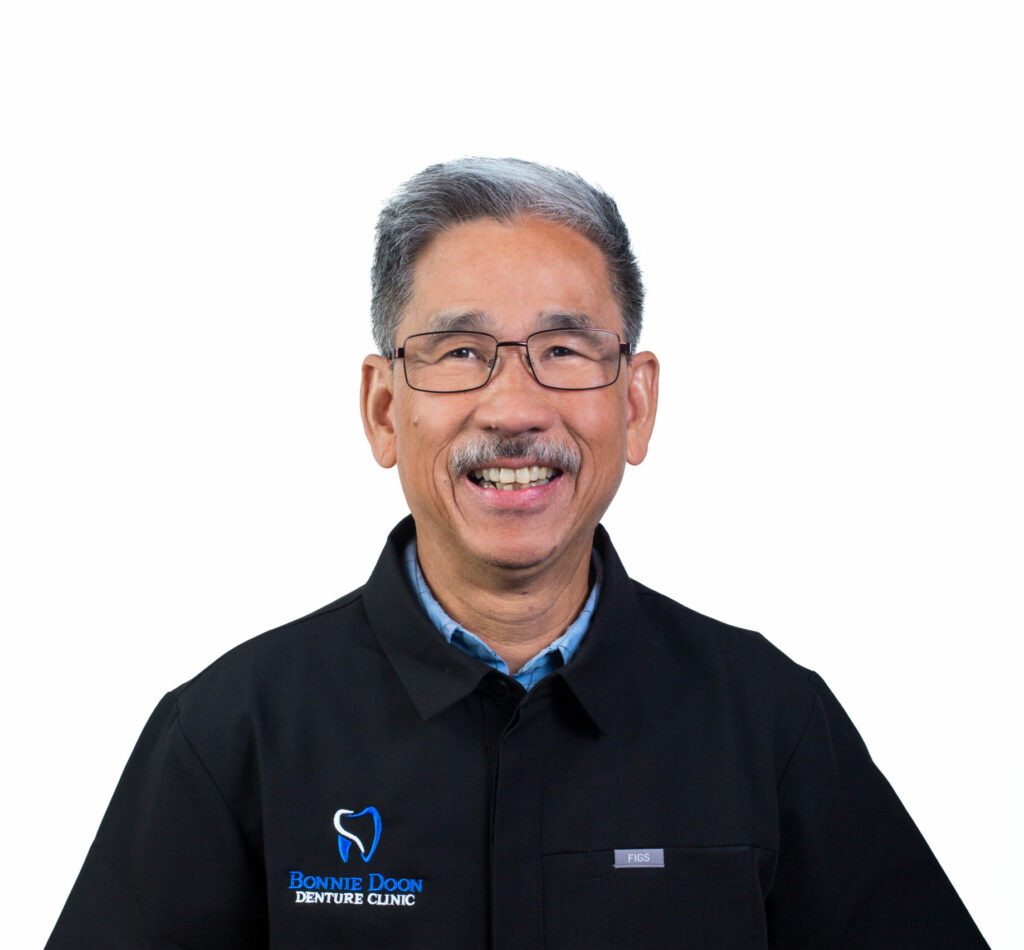 Phung Phan, Dental Technician

Meet Phung, our veteran lab technician with over 40 years of experience under his belt. When he's not mastering lab challenges, he's out enjoying life's simple pleasures. You'll often find him strolling around the lake hand in hand with his wife, casting a line while fishing, or catching the latest blockbuster at the movies. Phung's a true jack-of-all-trades – there's nothing he can't fix or finesse. If it's broken, he's on the case! And hey, he's not just fluent in the language of repairs; he's also fluent in Vietnamese. With his wealth of experience and easygoing nature, Phung is the go-to guy for all things lab-related, and he's always ready to tackle any task with a smile.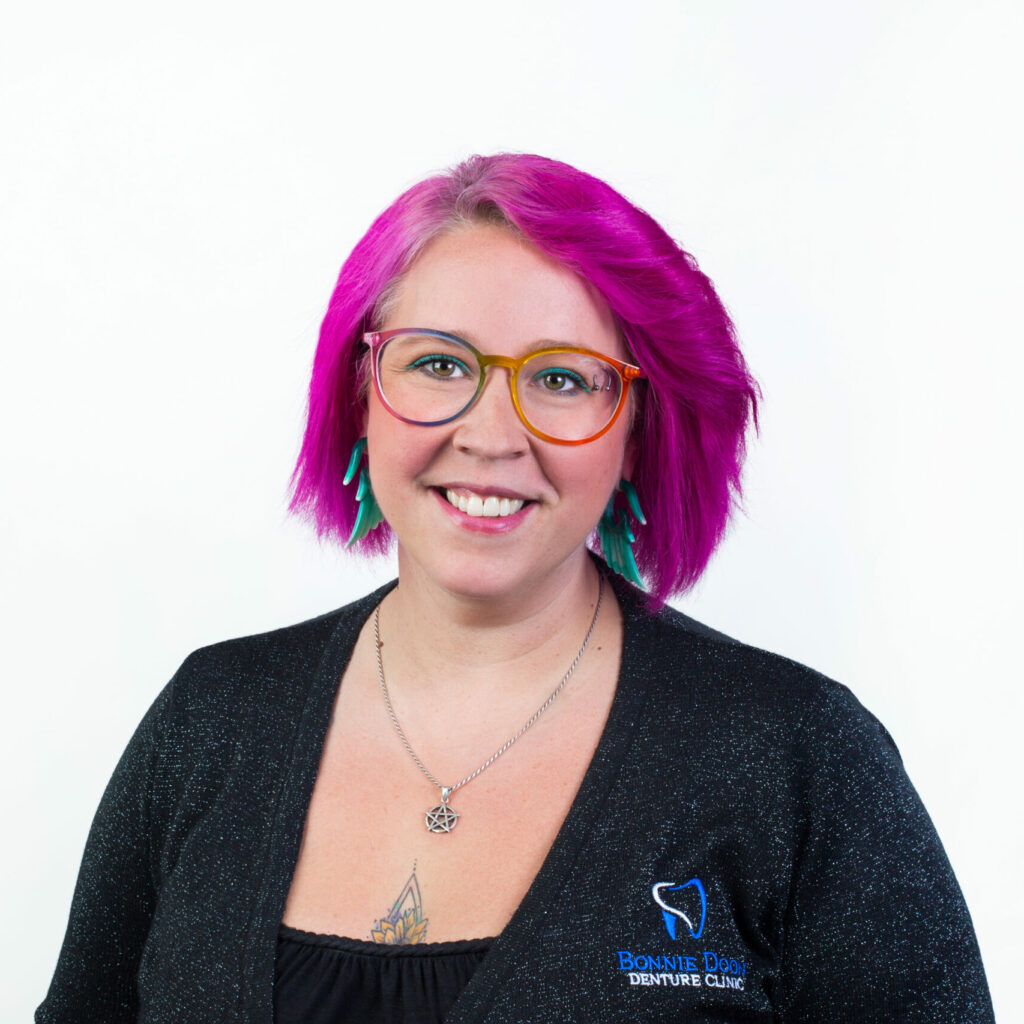 Jessie Dunphy, Office Admin & Artist-In-Residence
Meet Jess, the heartbeat of our office and our resident artist extraordinaire! She's been a valued part of our team since 2016 and brings an unbeatable blend of administrative prowess and artistic flair. When she's not keeping our office shipshape, Jess is a dedicated mom to her two cherished kiddos – they're her universe.
Outside the office, Jess is a Halloween enthusiast, finding joy in all things spooky and spectacular. She's not just a fan of art; she's a creator, painting her imagination onto canvases.
Adventure is her middle name, and she loves nothing more than spending time with friends and family, exploring new horizons. Jess has a soft spot for her work family, and her enthusiasm for each workday is contagious. With Jess around, the office is always full of life and creativity.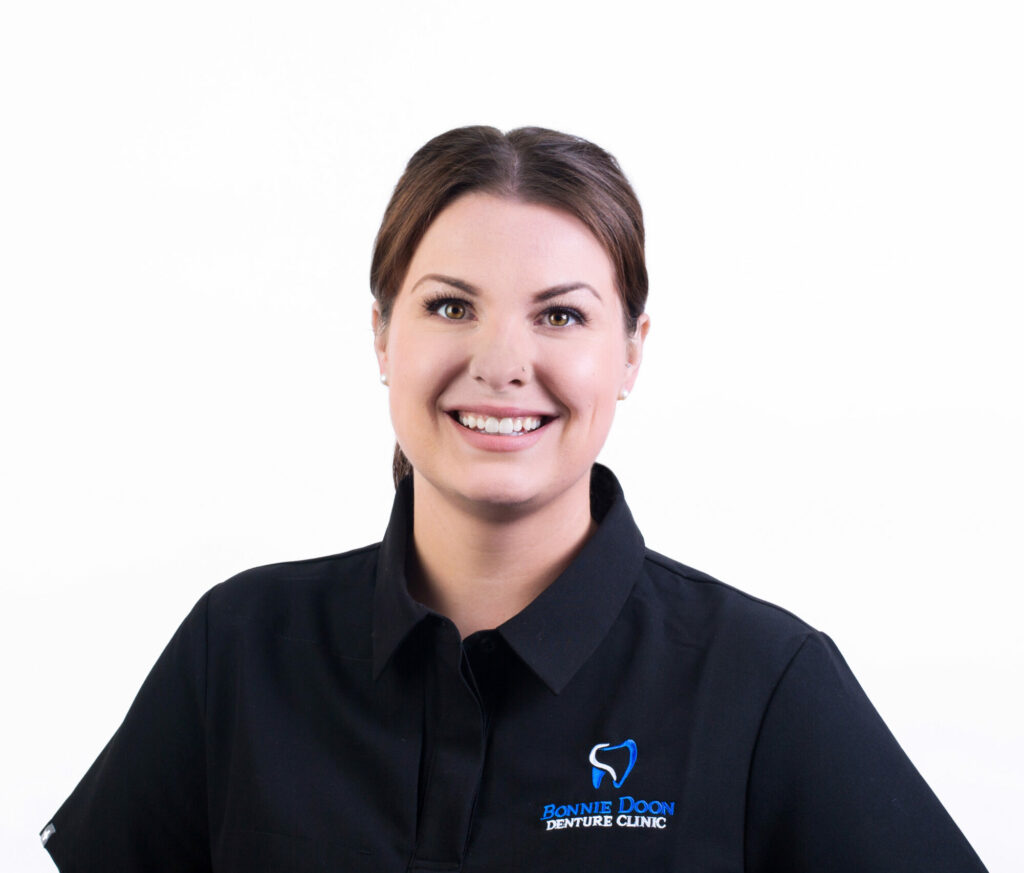 McKinnon Bloomer, RDT, Guerilla Marketing
McKinnon is our denturist lab technician and marketing maestro! Balancing the art of crafting dentures and cooking up marketing strategies is all in a day's work. When she's not perfecting prosthetics, she's soaking up moments with her hubby and two awesome kids. McKinnon's not your average 9-to-5er – she's also an avid runner, green-thumb gardener, and baking aficionado. Fresh to the team, but her impact's been massive. With over a decade of know-how, McKinnon's got the denture game down pat. Stuck on a case? She's your go-to guru. Challenges don't faze her – she dives in with a smile. McKinnon's mix of skills, enthusiasm, and all-around awesomeness make her the lab's secret sauce. Brace yourselves, because with McKinnon, our lab's reaching new heights!
Frank the Bulldog and Chester the Rhino
Frank and Chester are the unofficial 'security staff' for Bonnie Doon Denture Clinic. They welcome patients with their quiet, steady gaze, and are responsible for making sure our patients and staff feel comfortable. Feel free to rest your weary feet on either of them, but don't expect them to fetch you a glass of water!