The Bonnie Doon Denture Clinic Difference
We may not be the only denture clinic in Edmonton, but with over 30 years of unparalleled experience right within Bonnie Doon Shopping Centre, we like to think we have an excellent hometown advantage.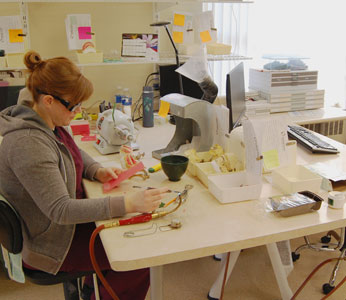 Your Oral Comfort Specialists
From your free consultation to your final pick-up date, our highly skilled team of Denturists will work with you every step of the way to create the perfect dentures for your specific needs, at the comfort level you deserve.
Often, you will need at least two fitting appointments to make sure your denture is completely customized and comfortable. These fittings will include:
Bite registration to ensure correct positioning of your jaw and placement of artificial teeth
Wax try-in(s) to confirm the characterization of your smile as well as contouring for speech and comfort

Our On-site Denture Lab
We are fortunate to have an on-site, fully equipped denture laboratory. We have trained technical experts on staff who oversee all stages of denture fabrication in order to ensure the highest build quality of your appliance. Because our Denturists work so closely with our technicians, we will confidently give you the best, most natural fit for your new smile.

Affordable Financing
We are committed to making oral health care affordable, providing financing with rates as low as 8.49%. Our partner, Dentalcard, offers a simple and affordable way to finance your procedure and allows you to get the care you need, when you need it. Several financing options are available with convenient monthly payments. Get in touch to learn more!
Questions
Dentures don't have to be daunting. Check out our FAQs.
Find Answers
Financing
We offer direct billing for plenty of insurance providers.
Explore Options
Team
Meet our qualified team of denturists and technicians.
Learn More